From then until now
In the late 1980s, Westcomp began delivering electronic components and material kits as a division of Storel AB. We have been independent since 2001, under the name of Westcomp AB. We now have a large number of well-known companies in a host of different industries as customers, both inside and outside Scandinavia.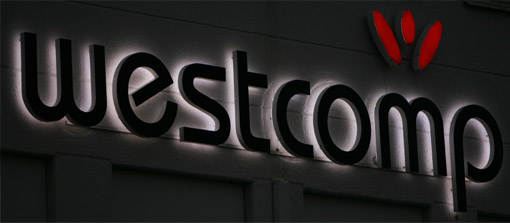 Three opinions about Westcomp
As our partner, you are part of an expanding group of electronics manufacturers who have recognised the advantages of having a secure and efficient supply chain.
Frontside Electronics AB is a subcontractor of circuit boards with a large number of customers in many different businesses. Collaboration with Westcomp, which at that time was known as Storel Komponent AB, began back in 1990. Robert Olsson is the CEO, owner and founder.
– As a subcontractor, there are considerable demands on us. The customer decides how the product will look, how much it may cost and when it has to be delivered. In order to meet these demands we in turn apply tough demands on Westcomp. We work well together and we intend to keep it that way. The best part of working with Westcomp is that they can provide us with complete material kits exactly when we need them, which means that we do not need a warehouse or warehouse personnel. Furthermore, we also avoid the problem of obsolescence. Our contact at Westcomp gives us regular status reports and takes part in our monthly production meetings. As a subcontractor, we work with some 85 different customers a year. Many of them have more than 20 different types of circuit boards with hundreds of components on each of them. If we were to do Westcomps job, we would need a number of purchasing agents. For us, Westcomp is the best alternative.
Tranås Industrikablage AB
Tranås Industrikablage AB supplies over 100 customers in various industries with wiring. The company purchases most of its connectors from Westcomp. Rolf Gerking is in charge of purchasing at the company.
– Among other things, our suppliers have to be able to maintain good quality and on-time deliveries. What we appreciate above all about Westcomp is that they have a consistently high level of service and assist us by finding new components out on the market. By utilising their knowledge of the industry as well as their purchasing channels, we save a great deal of time and consequently reduce costs. Based on a fixed price agreement, we order components in volumes ranging from around ten to a hundred thousand per delivery. Westcomp understands that our customers demands call for quick action and constant efforts to keep costs down. Through Westcomp, we save resources and ensure our ability to deliver. Our partnership works extremely well.
Aptus Elektronik AB:
Aptus Elektronik AB develops and produces electronic card readers for secure and efficient building operations. Their product range includes systems for electronic door access, laundry room booking, entry phones, alarms, and systems for monitoring energy consumption. Samuel Brycke is the production leader for circuit board assembly.
– By ordering complete material kits from Westcomp, we save considerable time and resources. In order to produce a circuit board, we only need to order two components: a material kit and a circuit board template, instead of perhaps having to order several hundred different components. If we have to purchase full rolls ourselves, there would be a lot of material lying around in the warehouse until the next batch. The interest alone for this is equivalent to the additional cost of ordering complete material kits. Thanks to Westcomp, we also do not need to put as much time into purchasing, warehousing and inventory. We decide which components we need and simply send an email. They take care of the rest. Availability is not a concern for us because they have the right contacts and purchasing channels.
Delivery precision
We make sure your components are available
Thanks to our business model as a procurement and logistic partner, we can purchase components from the producers of your choice. This means we can offer you an unlimited range of electronic components from manufacturers all over the world.
Cost efficiency
You do not pay more for ensuring that components are always available
Through our sourcing experts, we can ensure that components are always available for our customers at no additional cost.
Logistic solutions
On-demand solutions through kanban
We constantly monitor the range of components on the world market and are experts in procurement, handling components and coordinating purchasing and deliveries.
Quality
Reliability is standard
Westcomp is certified according to ISO 9001:2015 and ISO 14001:2015. Our quality system is characterised by established procedures for all operations to ensure reliable deliveries.